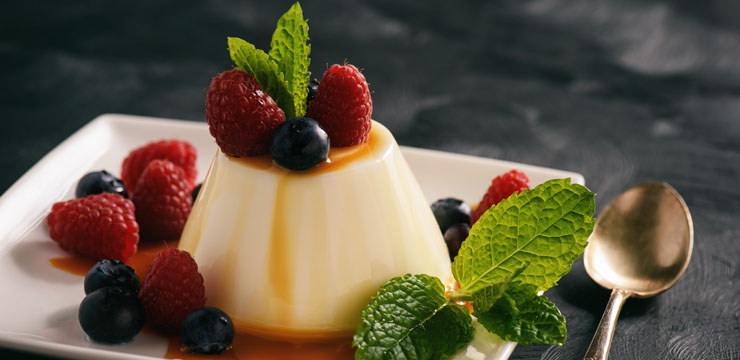 Our solutions for: Glazing | Ice cream | Ice cream compound producers
PRODUCT SERIES
WHAT IS IT
APPLICATION AREAS
BENEFIT
BIFOSOL® HUE
Customized colour blends for your market needs and for different market segments, natural, customized packing
Desserts, Ice Cream
Customized quality for your application, optimized packing for batch production process
BIFOSOL® GEL-G
Standardised Carrageenan for glazing or dairy desserts
Glazing, Flan, Whipping Cream
Constant quality in application
EUREBA® Ice-cream blend
A steviol glycoside based sugar replacement blend for sweetening soups and sauces with proven functionality in application
Soft Serve or scoopable ice cream
ready and easy to use, customized blend for sugar reduction or replacement
MOKA FP
High fat powders with different fat sources and fat content, usually from 70-80%, spray dried on different carriers, enriched with milk proteins and other ingredients for functionality purpose.
Ice cream mixes
Source of easy applicable fat in end product, soluble in water, Improves structure, texture and whitening effect, impacting flavour and taste positively, extend shelf-live
MOKAERO
Topping bases are instant products based on vegetable oil, proteins and specific composition of vegetable emulsifiers. They manage the topping key parameters like volume, consistency, stability and taste.
They are used to prepare cold desserts, where we desire the effect of aeration obtained by manual mixing. The effect of aeration improves the creaming, taste and most of all increases the volume of the finished product. Topping bases can be combined with hydrocolloids, modifying the structure, increasing the volume and stability. The addition of cocoa, fruit powders and aroma allows the creation of delicious desserts.
Whipped cream substitutes | cold desserts | ice-cream | (instant) puddings | creams | mousses | shakes
Improves texture, optimal overrun, easy applicable
Ekölite™ KREM
KREM texturizing systems to meet your ice cream formulation challenges. Select from a range of emulsifiers/stabilizer solutions in a variety of ice cream formats including hard pack, extruded, soft serve, novelties and water ice lollies.
Ice Cream, Ice Cream Blends
Integrated – Easy Soluble, Customized for your needs depending on your targets e.g. overrun, melting properties, creaminess, etc.
Please note that besides the BIFOSOL and BIFOLINE product range, not all products are offered by us in every market. Contact us for availability in your country.